Lulu Escapes meets Swiss Bali babe: Nadine (aka Blonde Seashell)
Nadine moved to Bali two years ago and has since been sharing all her best tips and recommendations on her blog Blonde Seashell. I have been following her beautiful moments in Bali since I started my blog and finally had the pleasure to meet Nadine when I was in Bali this year. She is a lovely, kind, fun and free spirit girl who loves the island life and is also an ambitious woman who runs her own online business.
Pin this post to read later ♡
How long have you been living in Bali for? Will you stay there much longer?
I am in Bali since 2.5 years and I still love it. However, I start to miss Europe – simple things like cheese haha and (that goes without saying) my friends and family. I don't know what the future holds but I do know I don't want to spend winter somewhere in the cold. Something always draws me back to Bali and I think this place will always hold a special place in my heart.
Do you find that living abroad changes you as a person? Do you find it challenging?
Yes, definitely it changes you. I've grown as a person and I've learned so much more about life and what matters. I do find it challenging but I was always a person who was seeking the adventure and when I was living in Switzerland I felt stuck and bored so I think I need a challenge in my life.
I know it's a hard question but what's your favourite destination in the world?
Uff I think it would be weird now if I wouldn't say Bali haha. But apart from that I've always loved going to the USA especially California. I've actually also always wanted to live there.
Have you ever travelled solo? If so, what would be your main advice to someone taking to travel solo?
I have yes. In my opinion, you really have to ask yourself do I like being alone and on an adventure or do I like having someone around me to share all those beautiful memories. If you are not sure I suggest going on a small group tour.
In addition to your travel blog, what other online work do you do?
I work as a social media strategist and manager. My main work is coaching entrepreneurs and business owners how to do their social media and if they don't have the time to it themselves I do the social media for them. The main platforms are Instagram, Facebook and Pinterest but I also have clients that want me to do their Twitter and Linkedin.
What would be your 3 mains tips for someone to grow on social media, especially Instagram?
I think the most important thing is to be consistent. If you really want to grow your following I suggest posting on a daily basis. Then the next thing is to have good content and a visual branding. Your account @luluescapes is a perfect example of a great visual branding. All the pictures are edited the same way and in the same colour scheme. People often underestimate that but you only have 2 sec. to convince someone to follow you that's why your feed has to look amazing! Last thing: be active. If you want to grow your account on Instagram you need to like and comment on other peoples pictures in order to get that love back.
Have you had any bad experiences whilst travelling? If so, what did you learn from it?
Well, I guess the one bad experience that stays in my mind is when I had dengue fever. I was always worried about getting it and when I had it was actually even worse than I thought. I always thought I was a grateful person but when I was in that hospital bed I realized that I wasn't. I took for granted that I had a healthy body and was living a great life. This experience taught me to be more humble and grateful every single day!
If you could go anywhere in the world tomorrow, where would it be?
Maldives or Fiji - I am just an island girl and I want to see so many more tropical islands!
How do you see your blog and business grow in the next few years?
My travel blog is more of a hobby because I like to share my love for Bali. My social media business is my "real" job and it has been growing so fast which is great so overtime I hope I can hire people full-time and help even more clients with their social media.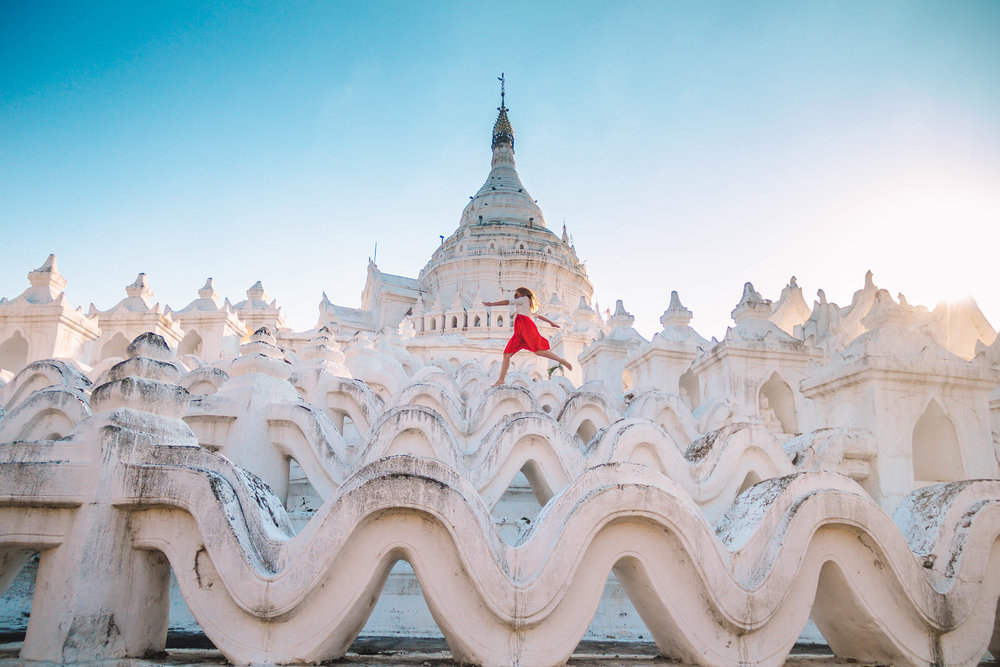 See More Travel Blogger Interviews