Rendezvous Hotel Scarborough in Perth
A lovely hotel situated next to the prettiest beaches of Perth
LULU ESCAPES RATING: ★★★☆☆
Style: modern beachfront hotel
Service: very friendly, welcoming & helpful
Facilities: outdoor pool, Cascades Pool Bar, Lobby Bar, outdoor observation deck, Straits Cafe, gym, spa & conference rooms
Wi-Fi: free - ok service
Website: Rendezvous Hotel Perth Scarborough
Location: Scarborough (2mins walk to the beach)
Price: king room starting at AU$170/night (breakfast included) - Check latest prices
Rooms & suites: spacious modern rooms with A/C, comfortable beds, shower/bath plus all necessary bathroom toiletries. Some rooms have balconies with ocean views over Scarborough Beach & the deluxe suites have their own private terrace.
Pin this post to read later ♡
Summary of Rendezvous Hotel Scarborough
The main reason why I first decided to stay at the Rendezvous in Scarborough was the hotel's prime location and magnificent ocean views. You are within a 2 minute walking distance from the beach made up of fine white sand and with a gorgeous turquoise blue sea. It's also a great place to catch the sunset either from the beach, your hotel room or the hotel observation deck that offers panoramic views over Scarborough.
I was kindly welcomed at the hotel when I checked in and was given lots of information on its surroundings and about other places I planned on visiting, such as Rottnest Island. My room was really spacious with a little balcony to enjoy the ocean view. The bathroom was also big with a jacuzzi bath/shower. The bathroom had all necessary bath amenities but it would have been nice to also have a hairdryer. Breakfast was nice in the mornings, with plenty of options to suit everyone's taste. My daily breakfast consisted of fresh fruit, tea, cereal and toast with freshly poached eggs. The hotel pool is also really nice although I didn't spend too much time there as I prefer to be by the beach.
Overall, I had a lovely stay at the hotel and would recommend it to anyone traveling to Perth, especially if you arrive from a long-haul flight like I did and just want to spend some days relaxing by the beach to get over your jet-lag. All the staff are extremely kind and will help you with everything they can to make your trip even more special. If you like to cycle then ask the hotel to give you a helmet and a lock so that you can rent a bike just outside and ride along the cycle path to reach the neighbouring beaches, such as City Beach, Trigg Beach, Mettams Pool and Floreat Beach.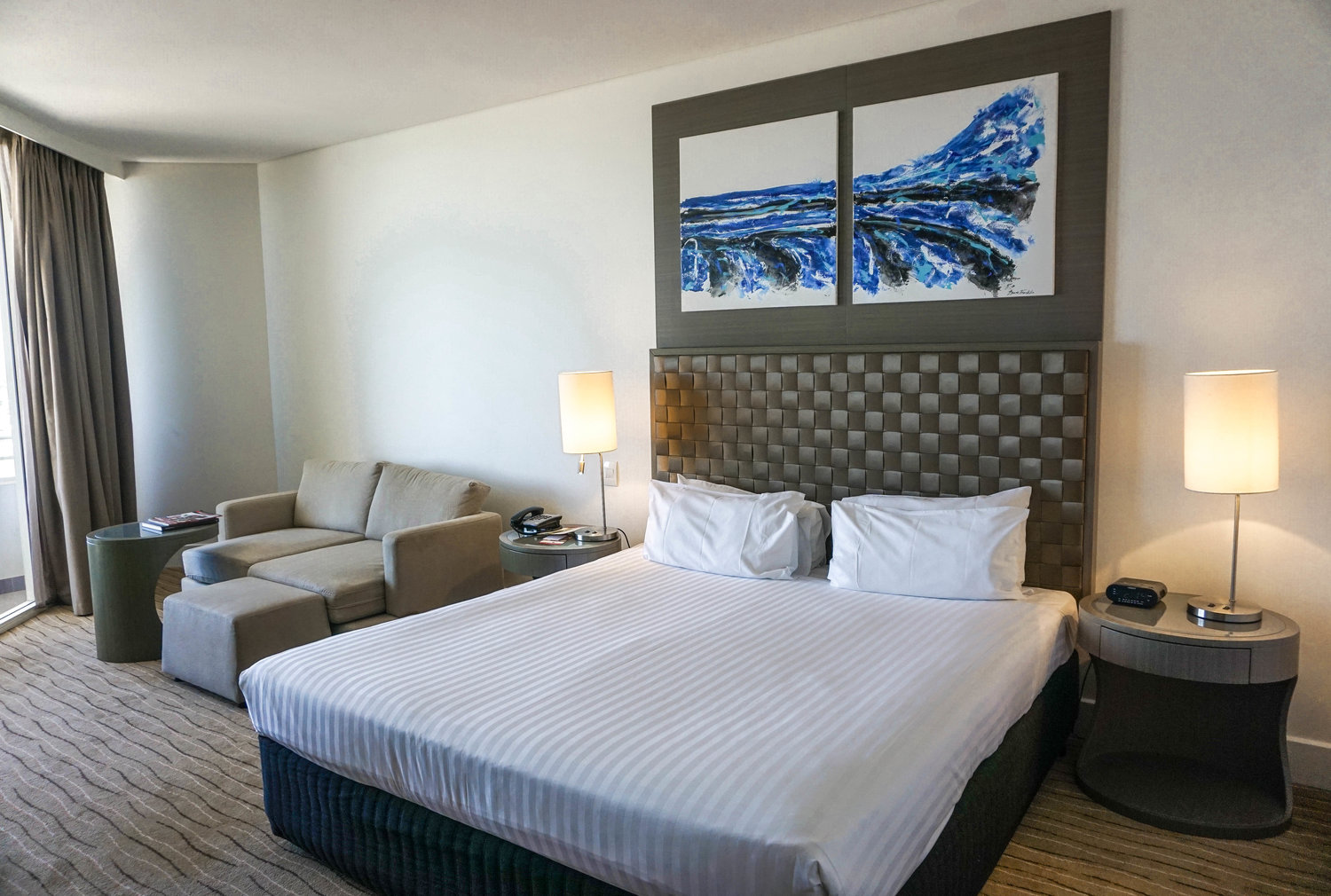 ♡ get the best deal on Booking.com
↠ Read more hotel reviews here