A 7-day sailing adventure in Croatia with Sailweek
- Croatia, a sailing paradise -
The Croatian part of the Adriatic Sea is one of the most attractive sailing destinations in Europe, and even the world. Croatia boats over 1200 islands, islets and reefs and about 2000km of coastline with magnificent jewels that are listed as a UNESCO World Heritage. From pristine waters and hidden coves to charming towns & marinas, vineyards, incredible landscapes and national parks; Croatia is a sailing paradise.
We choose the Dubrovnik Route with Sailweek and sailed for 7 days in a premium yacht from Dubrovnik to Split (you can also go the other way around). The price for both the standard and premium yachts includes accommodation for 7 nights, skipper, port fees, tourist taxes, fuel, dinghy, towels, linen, WiFi, snorkelling equipment, stand up paddleboard, food and mineral water for breakfast and lunch (you can take your own alcohol and food at no extra charge). With the premium yachts you also get cabin fans, taxi boat service, plus bike rentals at Mljet National Park. The sailing season runs from end of May to end of September and prices vary slightly depending on the selected week of the summer. You can find out more here.
Pin this post to read later ♡
Here's our 7-day sailing itinerary with @sailweek:
Day 1: Sipan
After checking-in with Sailweek at the Dubrovnik ACI marina and meeting our skipper and the other crew passengers, we embarked on our sailing adventure at around 5pm and sailed to Sipan island. The sea was rather rough for me and I wasn't feeling great on the crossing.. Once we docked at Sipan island, the sea was calm and the boat was less rocky thankfully. We all went for dinner at a restaurant recommended by our skipper called Konoba Tauris and tried one of the local dishes peka - a slow cooked goat stew on the fire.
Day 2: Mljet
On our second day of sailing we left Sipan island early in the morning and made our way to Mljet island. However, we had a little incident with the engine on the boat and had to be towed by another Sailweek boat. Once we docked at Ponema on Mljet island, we picked up our bikes and cycled around the national park (125KN entrance per person) to explore its two saltwater lakes - Veliko and Malo, also known as Large and Small Lakes. We first cycled around the Small Lake and had fun jumping off a bridge into the water. We then went to the Large Lake and took a small boat to St Mary's Island in the middle of the lake. There is an old Benedictine monastery dating back to the 12th century which is now a restaurant/cafe. The national park is so beautiful and it was really enjoyable to explore by bike. We cycled back to the town by sunset and in the evening had dinner at a local fish restaurant called Konoba Barba Ive.
Day 3: Korcula
On day 3 our boat was still not fixed so we had to be towed again to our next destination: Korcula. Before docking at the marina we stopped by a small island for a swim. Once on Korcula island, we tried to rent a scooter to explore the island but unfortunately there were no scooters left at all! So instead we took a taxi to Lumbarda beach (100KN each way) and spent the afternoon chilling there. In the evening we explored the lovely old fortress city of Korcula and watched the sunset from the top of the church bell tower of St. Mark's Cathedral (25KN/person) - you get to admire the panoramic views over the town and the sea so I highly recommend going up here. In the evening we all went for a wine tasting & Dalmatian tapas at Marendin - the owner was very friendly and funny whilst describing the local wines, which made our experience even better!
Day 4: Hvar
On day 4 we found out that the engine of our boat was unfixable so we left Korcula early in the morning and got towed for 5 hours towards Hvar. The sea was really calm though so it was a nice crossing sunbathing on the bow. A new sailing boat was waiting for us when we arrived so we swapped all our things on the new boat and then we were finally able to enjoy the boat and do some fun water activities. We then moored at Vinogradisce Bay where we were going to spend the night. The water was beautiful so it was a nice place to swim despite all the other boats. In the evening we got the water taxi to Hvar town and walked around at sunset. It's such a charming town with its small cobbled streets, beautiful cathedral and squares. We had dinner at a tavern called Konoba Menego and it was amazing - you must try their homemade gnocchi with shrimps. We then went for a drink at a rooftop bar called Teraca Bar just next to the old port. It's a lovely quiet terrace bar away from the busy bars & nightclubs serving lovely cocktails.
Day 5: Vis
On our fifth day we finally go to put the sails up on our new boat and we made our way to Vis island. We rented scooters and explored this incredible island. We firstly went to Stiniva Cove, voted one of the most beautiful beaches in Europe. It sure is stunning but it's quite a hike to get down there so do wear comfortable shoes. I also advise going before 3pm as it then gets shady. We then went over to Komiza and wandered around this charming coastal town whist also having a bite to eat at Fabrika. In the evening we headed back to Vis town and walked all the way around to the other side, its such a stunning place to explore. After such an active day touring around the island, we had dinner on the boat and enjoyed a quiet evening under the stars.
Day 6: Stari Grad
We left Vis in the morning and sailed to Tiha Bay, also known as Silent Bay, on the northern side of the island of Hvar. We spent the day swimming, snorkelling, paddle boarding, sunbathing and having a nice lunch on the boat prepared by our skipper. The water was so pristine and there were hardly any other boats so we really enjoyed our day here.
Later in the afternoon we docked at Stari Grad and spent the evening walking around the town. I found it so charming with its small cobblestone streets, old stone houses and peaceful squares. Did you know that it's the oldest town in Croatia?! There aren't as many tourists here in comparison to the town of Hvar so I highly recommend visiting Start Grad. Plus we got to see one of the most incredible sunsets of our trip in Croatia - see photo below! In the evening, we all had a lovely dinner together at Antica and then went for some cocktails by the port.
Day 7: Split
On our last day of sailing we left Stari Grad in the morning and headed over to Uvala Smrka for the day. It's a small bay on Brac Island known for its beautiful turquoise waters and its submarine shelter from the Second World War (now used as a shaded hangout point for the locals).
We sailed into Split by the evening and this was the last destination of our sailing adventure. We explored the historical centre to see some of the city's main landmarks, such as, Diocletian's Palace, Saint Domnius Cathedral, Golden Gate and Prokurative Square. We had dinner at a steak house called Chops Grill and the meat was delicious (however I did find the restaurant a bit touristy). After dinner we strolled along the Riva, ate an ice-cream and made our way back to the marina for our last night sleep on the boat.
Summary of our sailweek ADVENTURE
Overall it was an amazing experience and definitely a great way to explore a new country. It's quite something to live in a confined space with limited storage and being on top of one another. Thankfully the others members of the crew were really cool and we all got on so well (it's rare to get on so well with strangers when you're living together 24/7)! Plus I didn't get as seasick as I thought I would and I managed to sleep well very night on the boat.
Despite the incident with our engine (which was actually a fault of the charter company and out of Sailweek's hands) and having to change boats, our skipper did everything possible to ensure we enjoyed our trip by continuing our itinerary and Sailweek did their best to make up for it by inviting us to dinner on serval occasions and paying for our scooter rentals on Vis island. I mean, when you're on such an amazing trip surrounded by cool people it's hard for it to go wrong.. If you're looking for a unique holiday experience on the Adriatic Coast in Croatia, and particularly want to go sailing, whether on a party escape, an aventure or to even rent your own yacht with a skipper, then I highly recommend choosing Sailweek - you can book you place for next summer here.
Have you ever been to croatia or on a sailing adventure?
C xx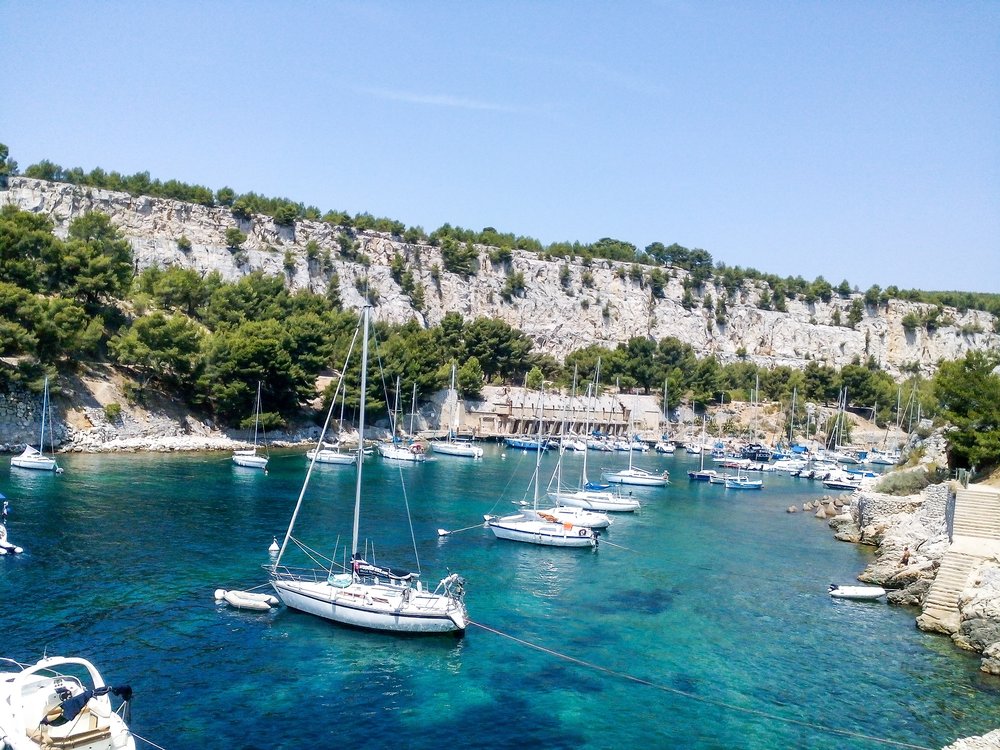 See more Europe travel guides